My holistic program for restoring your skin's balance
You suffer from acne, pimples and chronic skin inflammations
You have been suffering from skin problems for years, maybe even since puberty. You thought that your acne would clear up by itself but now it's about time!
You are frustrated and disappointed that everything you have tried has only led to short-term successes : from acne creams prescribed by doctors and courses of antibiotics to cosmetic products ranging from the cheapest to the most expensive, or natural cosmetics.
What's more, your diet isn't all that bad, you look after your health, but still…?!
You have the feeling that something was overlooked – the root cause of your acne.
You want to tackle the problem but don't know how?
What causes acne?
Acne is a disease of civilization. That means it is curable. Even if it is a genetically inherited condition that affects you but not everyone else. The term "diseases of civilization" means that our diet and modern lifestyle activates certain genes, and this leads to skin problems.
Indigenous peoples don't suffer from acne; but the younger generations of indigenous peoples who have grown up in so-called Western civilizations suffer from the same skin problems as we do.
You are not to blame for your acne!
Most of our food is processed and low in vital substances (i.e. low in vitamins, minerals and phytochemicals) or even damaging (pollutants).
We are under constant stress due to heavy or even multiple workloads (children, housework, career), being permanently reachable (via cell phone, e-mail and social media), not getting enough sleep, not enough time for ourselves, the way society thinks we should look (our clothes, figure, skin, hairstyle) and being up-to-date (magazines, TV, culture), emotional pressures.
The two factors mentioned above can bring your gut and your hormones out of balance, which could lead to:
Problems with digestion, food intolerances, alterations to the gut flora (dysbiosis), a porous gut wall
PCO (Polycystitic Ovarian Syndrome), PMS, increased adrenaline levels, adrenal fatigue, thyroid problems, reduced fertility
Both a healthy gut and complete hormonal balance are important for beautiful, healthy skin
Of course, this doesn't mean that you have or will have all of these disorders. Skin problems can appear by themselves or in conjunction with other ailments.
It is important to know that these problems are caused by lifestyle choices, and that's a good thing! It means that the power to change things is already in your hands.
What is the solution?
What you now need is a way to restore your skin's natural balance and get your life back – acne-free! As a dermatologist who looks at the whole picture, it's important to me that your entire body feels good in its own skin.
Some dermatologists don't recognize skin problems as serious ailments; they think skin problems are just a side issue. And some doctors – we learn this as part of our training – only treat the symptoms of acne instead of getting to the root of the problem.
That's why I have developed a holistic program that combats acne and simultaneously treats its root causes.
Here are the five basic elements of my "Free From Acne" Program
An anti-inflammatory diet rich in vital substances
Your body's own fully functioning detox procedure
Optimal digestion and gut flora
Natural hormonal balance
A relaxed way of coping with stress
EXTRA: Anti-inflammatory, corrective/balancing skincare.
Are you ready for an acne-free life?
The program I am presenting to you here doesn't take place at my office. You can complete the program online at home. Over a 5-week period, I will send you a total of 12 videos where I take you through each topic, as well as a workbook with a dietary plan, menus and checklists so that you can adapt your habits to fit an acne-free lifestyle and diet.
My Online Program "Finally Free From Acne"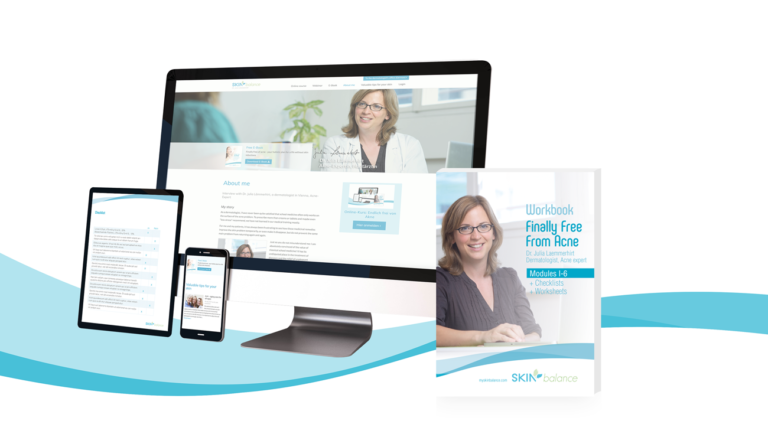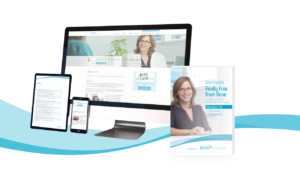 Get detailed information about my "Acne-Free" Program. You can write to me if you have any questions.
MORE INFORMATION